The time has come to map out the Ultimate Music Experience on South Padre Island for a week's worth of festivities that'll leave you dreaming of #SpringBreakForever! Use the official festival map to get a lay of the land and prepare to party at our annual seaside celebration of dance music. Map out your adventure and preview the heart of the UME festival anytime on the mobile app, available free for Google Android and Apple iOS.
Map of UME Festival Grounds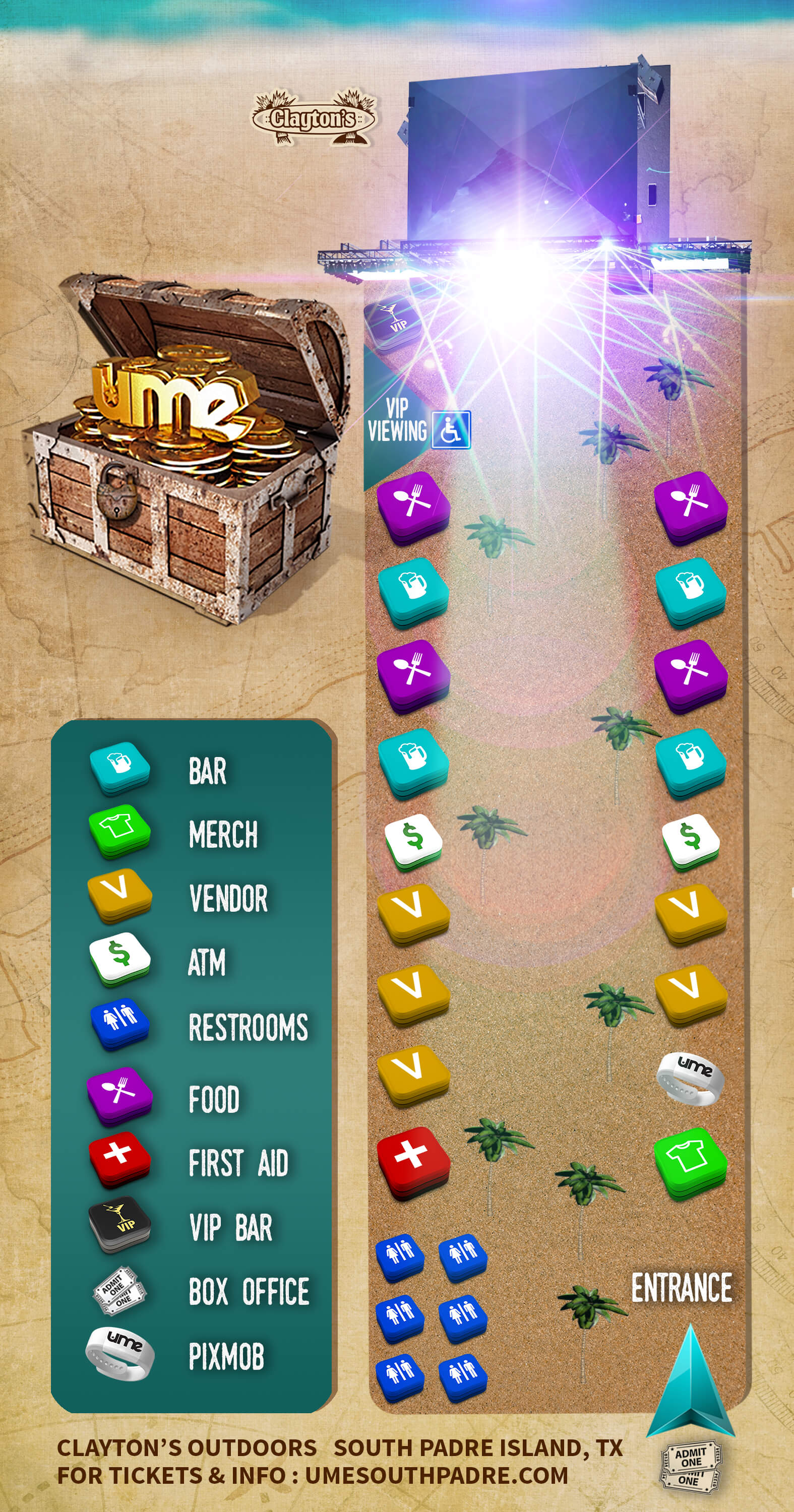 Navigate your Ultimate Music Experience with ease including the location of entrances, the Main Stage, restrooms, bars and food, in addition to much more. Showcase your festival spirit with a quick stop at the official Merch booth to stock up on swag. It's also where you'll find illuminating frames by Spectified and LED wristbands to join the PixMob. Plus, don't miss our other amazing retailers stocked with a selection of party supplies, like We Rave Hard, Electric Family, Glassadazical, Nite Lite Nite Life, and Fest Nest.
Should you require medical attention for any reason, First Aid is available to you and your crew. Stay smart and celebrate safe! Plus, VIPs can scout their on-site amenities including an express entrance, ADA accessible side-stage viewing areas, private restroom facilities, and more.
Ticketing
For all your ticketing needs the Box Office will open at 4:00 PM on Wednesday, March 15th, and at 12:00 PM Thursday through Saturday. Patrons 21+, don't forget to swing by the ID Check to get your wristband so you can purchase drinks at the bar.
Transportation
Getting to and from the party has never been easier, with so many hotels in walking distance of around 1.5 miles from the venue. Make your way on foot, walk and talk! For those traveling by car, there are several parking options nearby.
Lost & Found
When you misplace a personal item at a festival, a mini-freakout may ensue. Should this happen during your time at Ultimate Music Experience, avoid the panic attack and visit Lost & Found to recover any wayward belongings. During the show Lost & Found will be located at the official merch booth, before gates open it will be held at the Box Office.