Clayton's Outdoors
The seventh annual Ultimate Music Experience washes ashore South Padre Island on March 15-18th hosting a raucous Spring Break celebration at Clayton's Outdoors. For the 2017 edition UME will double in size, expanding our massive seaside festival to a larger location.
Dance on the sand and surf the sound waves, when UME '17 transforms the isle into a dance music paradise you'll start and end your day without ever leaving the beach! Electronic music's reigning DJs will travel from every corner of the globe for the Ultimate soundtrack delivered over four incredible nights.
Facilitating over 20,000 dance music lovers under the stars, our new home at Clayton's Outdoors is a much larger capacity than year's past!
Area Airport: Brownsville/South Padre Island International Airport (BRO)
Parking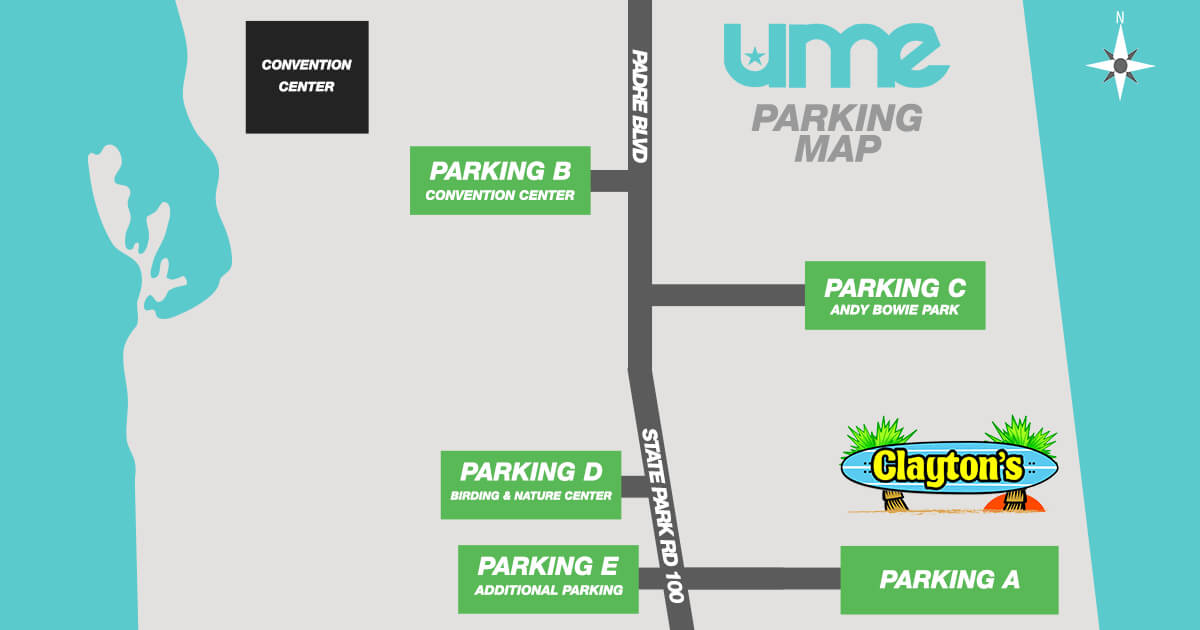 For those traveling by car, there are several parking options nearby. The closest lots include Clayton's, the Convention Center, Andy Bowie Park, and the Birding and Nature Center, with additional local parking available. For the Ultimate convenience, guests of the Hilton Garden Inn and La Quinta can park on-site at the hotel. As always carpool is king! Rally your crew to celebrate spring break by sharing the ride. Everyone wants to see their favorite artists play, so head out early to allow for traffic.
Hotels
South Padre Island has a lot to offer in terms of finding overnight digs for our Spring Break getaway. Whether you want a low budget option, or a place with plenty of room for a large group, visit SoPadre.com to find island accommodations!
Experience the best of Ultimate, make travel reservations for our week-long beach party on the sands of South Padre. There's loads of variety with ample lodging choices tailored to your lifestyle. Take your pick of everything from local campsites, starting at only $10 a night, to vacation rentals and resorts where larger groups can split the cost between your festival family.
Map
Navigate your Ultimate Music Experience with ease including the location of entrances, the Main Stage, restrooms, bars and food, in addition to much more. Showcase your festival spirit with a quick stop at the official Merch booth to stock up on swag. It's also where you'll find illuminating frames by Spectified and LED wristbands to join the PixMob. Plus, don't miss our other amazing retailers stocked with a selection of party supplies, like We Rave Hard, Electric Family, Glassadazical, Nite Lite Nite Life, and Fest Nest.
Should you require medical attention for any reason, First Aid is available to you and your crew. Stay smart and celebrate safe! Plus, VIPs can scout their on-site amenities including an express entrance, ADA accessible side-stage viewing areas, private restroom facilities, and more.